Natalia Soto Rojas
Costa Rica Travel planner specialist
Born in San José, Costa Rica on July 8, 1976. Lived in Heredia, studied at a public elementary and high school, demonstrated good communications skills, in spanish, native idiom and english as well, a nice commitment with the Nature with daily actions to recycle and conserve the planet. As a lover of the Nature the only memory worth to keep of an animal or a landscape is a good picture, so I spent some time studying Photography as well, presented my photography work in two different occasions, one was Techniques of Photography in the restaurant Le Petite Paris and later Pictures of my old Heredia, included some good ones in Barva de Heredia, this one in the old restaurant La Casona de Don Alfredo.
My dream was to keep passing the love for all living beings and the planet to the new generations, to everybody in my way. My first job in tourism area was Hotel Cocal in Jacó beach, as receptionist, next was Hotel Balcón del Mar in the same place but for a longer period, there I could start my call, applying different conservation and energy savings in the rooms and services to the tourists. Came back to the city happy with the experience and looking forward to more hotel or tourism jobs, in Hotel Villa Caletas had the opportunity to keep applying the Sustainable Development Tourism program and watch with proud my hotel gain more and more leaves into the program, also assisted to a seminary: Development and Sustainable Tourism by Alliance Rainforest y Horizontes and imparted by Glen Janpoll, owner of the leader hotel in the subject Finca Rosa Blanca.
In CRS Tours, a successful tourism agency owned by Jan Centen, from Holland, learned all the operations and perfect detailed organization around a trip for foreigns. Later had the chance to work for a Boutique hotel, a new experience in San José downtown, Hotel Grano de Oro is a small oasis of peace and beauty in the middle of the city where the service to the guest is a daily commitment and a smile is even more important than words, I continued my trip to Hotel Costa Rica Marriott and if life is a college this place was my master degree, excellence in every action done, high standards in a huge and elegant place, very different from all my past experiences, very important. By this time I had the chance to meet deeply one part of the richness of my country natural resources and became a birdwatcher, traveled across all the country finding many species of birds amazing myself more with each one. Sight and ears became sharper with every trip and I was able to play the Guide role sometimes with different friends, even to my family I opened this door and showed them this wonderful hobby.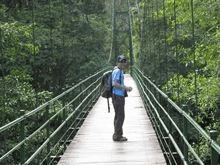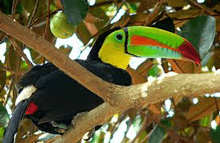 In United States worked for another branch of the Marriott Corporation, Courtyard by Marriott in Hunt Valley Maryland for several years, Marriott is well known for excellence every day and go the extra mile whenever is possible philosophy and this became an essential part of me for the rest of my life.
Back in Costa Rica, after living few years in USA, I continued to be a birdwatcher anywhere and anytime, kept the faith the crisis of 2013 in tourism area will end soon in my beloved Costa Rica so we could continue showing all our wonders to the world.
Finally, so long waited, I found this amazing and exciting job, Costa Rica Itinerary is a very firm and well organized tourism agency where I feel very useful to many people in other countries, to my own country and my personal satisfaction is my daily reward. I see myself building a career in this place, learning more every day, because we never stop learning, using my knowledge and passion to create a better customer service and better habits in my own country to have always this paradise called Costa Rica.